Have you ever wondered what you can do with a law degree? There are multiple options available to you. You could be a lawyer to begin with. But wouldn't it all be better if it is an online law degree?
Moreover, you could be a paralegal, a research scholar, and even go into law enforcement. There's a wide range of opportunities to choose from.
However, a law degree can take years to complete on campus or offline. A lot of us want to study law but simply cannot make time for full-time courses at the university. Thus, for those troubled souls, we have the perfect solution- an online law degree.
So, can you get a law degree online? What are some online law degree programs? Is a law degree online as valid as its offline counterpart? Well, let us straighten it out for you by starting with the basics.
How To Get An Online Law Degree?
Getting a law degree online is not really very different from getting one offline. Therefore, the concept of online law degree programs looks easier to most. It is, sometimes, because it does not require you to attend 5-hour long classes for four years to acquire it.
Instead, you can continue with your everyday duties and responsibilities and get the degree as soon as you pass the necessary exams. But in terms of curriculum, both online law degrees and their offline counterparts are the same. In fact, an online law student will have to put in some extra hard work, as most employment opportunities prefer offline grads.
Steps To Get A Law Degree Online
If you want to get into law school online, you can start thinking of a good prelaw degree. Moreover, if you have not gotten your bachelor's degree yet, a pre-law degree might be the best choice for you. There are universities in the US that offer an online pre-law degree.
An online bachelor's degree will take you four years to complete. Additionally, there are chances that you complete the degree in two years. For this, you will need an associate degree and then transfer the credits to this one.
A Befitting Pre-Law Degree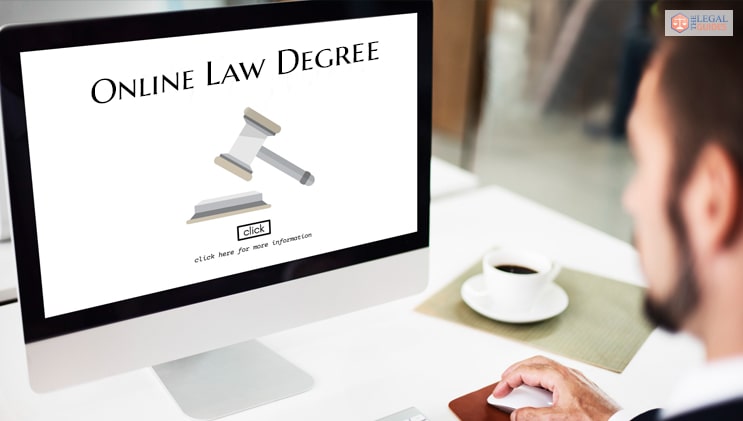 If you get a Bachelor of Arts in Legal Studies, the law degree course becomes easier for you. It allows you to start working in an entry-level legal role. This way, you can keep studying part-time to complete your law degree. Thus, if you pick a Bachelor's in pre-law, you will be learning English, math, economics, or other subjects on the side with a major in pre-law.
You can pick a specific area of study to help with a legal job. Here are some options:
1. Political Science
2. History
3. Economics
4. Government
5. Philosophy
If you want to become a lawyer later on, it's important to choose a Bachelor of Science in Legal Studies program that's approved by the American Bar Association (ABA). Moreover, this rule applies to both online and in-person programs.
Do Your Research
While getting your Bachelor's degree, you could stay on top of things and research law schools. Look for law schools that offer an online program. Moreover, it is important that the University/law school is accredited by the American Bar Association (ABA).
It should also bear recognition from the State Bar Association. Beware of schools that are not affiliated with that degree, online or offline, which won't allow you to practice law.
Remember, your online-law degree should be a valid one to facilitate bar admission.
LSAT
Once you have found your law school of choice, be sure to go through its requirements. Review the admission requirements for the program. For example, most Universities that offer law degrees online require you to have a bachelor's degree. Moreover, they may require a good LSAT (Law School scores and other prerequisites.
You Need To Take LSATs For Online Law Degree
Carefully go through all prerequisites and check them off your list before applying to your chosen programs. You will ideally have to take the LSAT (Law School Admission Test). Moreover, the LSAT consists of multiple-choice questions.
The test will contain questions from the following sections.
a. Logical Reasoning.
This section will assess you on your ability to analyze, evaluate, and draw inferences from arguments.
b. Analytical Reasoning.
Here, the questions will test your ability to understand and work with complex relationships and structures.
c. Reading Comprehension.
This section will test your reading and understanding skills.
d. Writing Test.
In this section, you will have to write an essay where you pick if you are for or against a given notion. Moreover, you will argue and state the reasons for your choice. The law schools will review this essay as a part of your application.
LSAT Score
The average LSAT score is typically around 150. Your score on the LSAT will determine which program you get into. Remember, a high score will ensure your admission to most online law degree programs.
Once you have your LSAT score, you will have to submit applications to the online-law degree programs that you have an interest in. Moreover, along with the application, send in the necessary documentation. This may include transcripts, letters of recommendation, and personal statements.
Law School Acceptance
Once acceptance is complete, your journey begins. Moreover, be sure to complete all online courses. Since the law degree is already virtual, be sure to reach out and actively participate. Take part in discussions and complete assignments on time.
Additionally, be sure to avoid distractions and keep regularity in your coursework. An online law degree is just as demanding as an offline one.
Remember, while pursuing your online-law degree, try getting as much practical experience as possible. Look for internships to broaden your legal knowledge.
To Conclude
Now that we have come to the end of our article let's have a quick rehash. A law degree online comes with a lot of flexibility and self-discipline. No one can save you but yourself.
By now, we are sure you understand the process of getting a law degree. Now as a concluding statement, let us find out the good and the bads of a law degree.
Additionally, online law degree programs offer flexibility. Only you decide the terms of when and where you study. It leaves you with plenty of time to cater to other commitments. An online law program will also cost less than an offline one.
You will have savings from all the commuting and housing expenses. Finally, an online law program allows you to set your own pace. Moreover, you will be taking on only what you can handle.
Now, coming on to the challenges, online law students may have fewer networking opportunities. Remember, many face backlogs as compared to their offline peers. Many states have strict requirements that recognize offline law degrees only. Thus, an online degree can pose a challenge by limiting bar exam eligibility.
Online learning requires self-discipline and time management. It is up to the student what they choose to do with their time and independence.
Read Also: