Have you been charged with a felony?
Does any of your close ones have a felony on their official record?
If you or a loved one has a felony on their record, you must be wondering how long it will stay on the record, or if it can be expunged at all.
Here is a quick and simple read answering all your questions!
How Long Does A Felony Stay On Your Record?
To answer your question, let me first make sure that you know what a felony is.
What Is A Felony?
A felony according to federal law in the United States consists of crimes that are of major seriousness. They can easily be differentiated from misdemeanors as felonies are usually punishable with imprisonment of a year.
A felony usually includes( but is however not limited) to a list of offenses, they are:
Murder.
Aggravated forms of assault.
Robbery.
Manslaughter.
Animal cruelty.
Cybercrime.
Dentity theft.
Tax evasion.
Fraud.
Burglary.
Arson.
Highspeed chase.
Copyright infringement.
Blackmail.
Larceny or theft.
Child pornography.
Manufacture, possession, and sale of drugs. 
The following offenses as well as a few more definitely constitute a felony.
Consequences Of A Felony Conviction
A person, once convicted of a felony can face multiple consequences.
They may range from having trouble finding employment.
They often lose their right to vote.
Lose out on social benefits like worker's compensation.
A felon may lose their right to bear arms.
They may often lose professional licenses or permits.
The felon may lose their right to provide foster care. 
Felons convicted of narcotic-related crimes may lose their ability to receive assistance on educational expenses.
Felons might also face eviction charges. 
Does A Felony Stay On Record Forever?
Exactly how long does a felony stay on your record?
A felony usually stays on your record forever, and these records are public.
A felony stays on record forever unless removed proactively by means of expungement. Each state has a different expungement procedure. They will be discussed in detail in the article!
Why Do Felonies Have An Almost Permanent Record?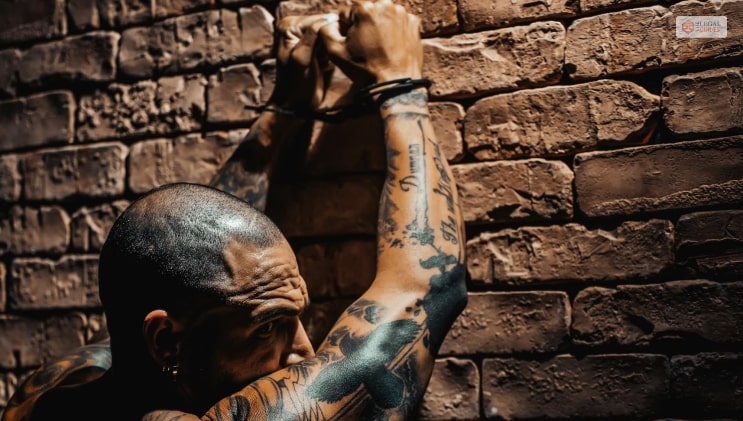 When one is convicted of a felony, it is important to convey the implications and consequences of their wrongdoings to them as well as to the public at large.
That can only be achieved when a record of such a crime is kept as a reminder to the person committing the crime. A felony record also often stands as a warning to others.
A regular sex offender is often federally required to register on a list of sex offenders.  Hen registering, such a person is required to provide a sample of their DNA. If such a requirement is violated, this could make them liable to very harsh punishments. 
How To Clear A Felony Record?
Expungement is the process that allows the clearance of your record of felony convictions. Not all states allow for felony records to be expunged. Some states allow partial expungement of felonies.
The states that do not have expungement procedures are as follows.
▹ Iowa.
▹ Montana.
▹ Arizona.
▹ Texas.
▹ Nebraska.
The states that allow the expungement of very few offenses are as follows.
▹ Colorado.
▹ Wisconsin.
▹ California.
The states that allow the expungement of many offenses barring the most serious felonies are as follows.
▹ Oregon.
▹ Nevada.
▹ Utah.
▹ Washington.
How To Get An Expungement? The Procedure
A person convicted of a felony can get his records expunged by going through the following steps. They are:
➼ Fill out the relevant petition seeking an expungement.
➼ They have to submit the relevant paperwork to the court.
➼ Once the paperwork is submitted to the criminal court having jurisdiction, the judge reviews the petition.
➼ The esteemed judge then arrives at a decision regarding the grant of the petition.
Expungement Fee
In most cases, an expungement form requires the deposition of a fee. The cost for expungement of a felony conviction can be around $150. The amount payable is mostly dependent on the type of offense. 
Can You Get A Felony Record Expunged For Free?
Most states that have the provision to allow expungement allow people from low-income brackets to apply for a waiver of the expungement fee.
Expungement Procedure Simplified
States differ in their mechanisms when it comes to expungement.
⦿ Some states require the person concerned to serve documents to the district attorneys. 
⦿ Other states require the person to draw up their own Order of Expungement which is to be deposited in Court and reviewed by the judge. 
⦿ Some cases in some states require a separate hearing on the topic. If the ruling is done in favor of the expungement, the Court delivers an order to that effect. 
⦿ Once such an order is obtained, the person may need to approach the various organizations that have kept their earlier record, in order to expunge those.
Documents Required For Expungement Of A Felon
The list of materials needed to be provided at the time of expungement may include the following.
➡ Relevant records were kept regarding the case.
➡ Relevant documents to the conviction.
➡ Photographs and recordings of audio and visual nature regarding the crime.
➡ Any evidence of the conviction is available in tangible form.
➡ Proof of education of the person concerned, degrees attained awards, and the like. 
➡ Previous records of employment. 
Can You Write No To The Previous Convictions Question In Your Job Application Form?
The law states that once an order has been passed by the Court stating that your record has been expunged of your felony conviction, you can safely write NO on the job questions that ask you about your previous convictions.
What Do You Need To Know Before You Apply For Expungement?
This is the list of a few things that would serve you well to have prior knowledge of.
They are:
A number of your case.
Your date of conviction and release.
The sections of federal law that you were convicted under.
The details of your plea, guilty, innocent, or no contest.
Probation, if served, and for how long.
Fines and reimbursements that you have regarding the case.
Which prison in which state was allocated for you.
If you have been on parole, and for how long. 
Some Commonly Asked Questions Answered.
Q1.  How Long Does A Felony Stay On Your Record In Michigan?
Ans: A felony stays on record in Michigan unless expunged. Michigan has provisions for expungement available. A well-known Clean Slate Law in the state of Michigan makes sure that convicts get their public records clear of a felony after they have been free of convictions for 10 years or more in case of serious felonies.
Q2. How Long Does A Felony Stay On Your Record In California?
Ans: Felony convictions in California stay on record forever unless an expungement is attained. Some crimes are eligible to be expunged and others are not.
Q3.  How Long Does A Felony Stay On Your Record In Ohio?
Ans: A felony conviction will stay on record if not expunged. A person has to wait a certain period before applying for a petition for expungement. The time varies with the seriousness of the offense.
Q4. How Long Does A Federal Felony Stay On Your Record?
Ans: A federal felony is set to be on your record forever if nothing, in particular, is done about it, i.e, if it is not expunged.
Reach Out To Us!
Hopefully, the article has answered all your questions regarding expungement and the record of felony convictions. If you have any further doubts, no matter which state or country you are a resident of, feel free to post your doubts and questions in the comment below!
Tell us if you found this article helpful!
Read Also: